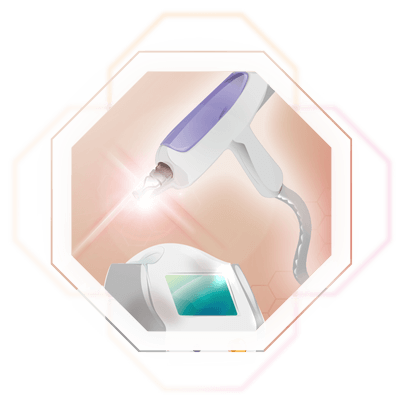 ND:YAG-Laser
Permanent hair removal with the innovative YAG laser
ARRANGE YOUR FREE CONSULTATION TODAY!
How does it work?
The newest technology is able to achieve the best results in the field of permanent hair removal*. That is why we rely only on the latest technology. For example, we have the innovative ND:YAG laser which, similar to all other laser systems, works with bundled light. Pulsed laser light is able to target the hair root at a wavelength of 1064 nm and eliminate it permanently. The hair cannot grow back after a successfully performed treatment.
The ND:YAG laser is a solid state laser. It emits extremely short and high-energy light pulses. The abbreviation of this laser means neodymium doped laser with yttrium aluminum garnet crystal. The generated light falls on the built-in crystal in which the neodymium atoms are then activated.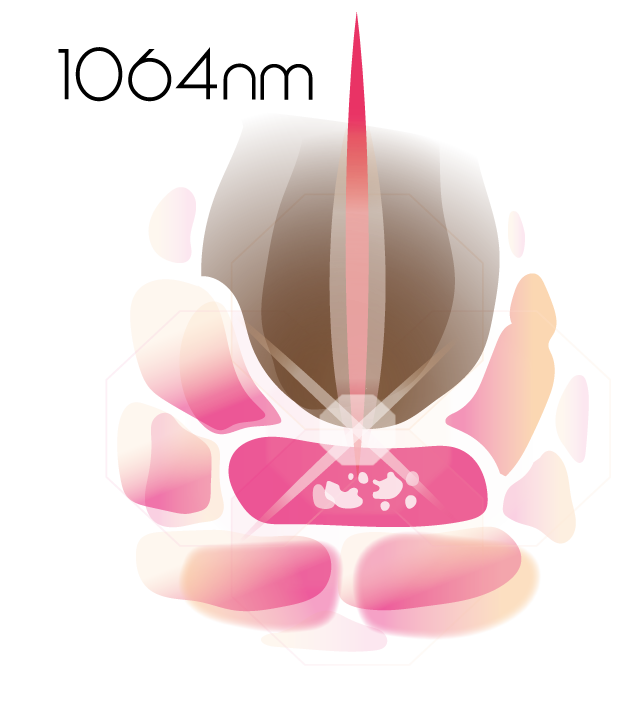 ND:YAG-Laser
enjoy freedom to the fullest
The specific wavelength
Laser technology provides a significant advantage. Each wavelength set on the device acts selectively on specific colours. Therefore, a targeted treatment can be performed without damaging blood vessels or other tissues. The YAG laser is Q-switched and emits infrared radiation. The wavelength used is 1064 nm and is invisible to the human eye. This specific wavelength is perfectly matched to the body's own pigment melanin and can therefore be absorbed particularly well by the body. This technology can therefore be used particularly well on darker skin without causing damage or burning
to the skin. Hair roots, which we need to reach for permanent hair removal sit often very deep in the skin, especially for skin types with very dark hair. The YAG laser is able to reach the hair root up to 5mm deep. This makes it possible to treat dark hair in an optimal way.
The hair cycles
The hair cycles are essentially, among other phases, the growth, the transition period and the inactive phase. A promising treatment for permanent hair removal is only possible during the growth phase, since during this phase the hair is still connected to the root and grows. Through this connection similar to fiberglass, the light can reach the hair root via the hair and unfolds its effect there, consequently freeing you from this hair forever.
Beauty without surgical procedure.
medical staff

years of experience

highest customer satisfaction

any technology

easy financing
© 2021 MedX. Alle Rechte vorbehalten. All rights reserved.